Show and Tell by Susan Glockner, MD
Since August, when the California Blueprint for a Safer Economy executive order began, COVID-19 restrictions have been based on the colored tier system accounting for caseloads and transmission risks by region. Now that the Regional Stay-at-Home order has been lifted, we can consider how the schools can reopen and their sports teams can begin modified seasons.  In the summer, the recommendations were vague: teams could have players engage in conditioning and skill sessions if wearing a mask ("as tolerated") and if remaining six feet apart. Some schools and leagues began practicing by working in small cohorts only, with varying degrees of compliance related to masking and physical distancing. In October, many college and pro teams in California got guidance for how to resume competition with very frequent testing and protocols for off-field enforcement of masks and distancing, but youth and adult recreational athletes and teams did not. Your youth athletes and their parents may be confused about how to navigate sports in the COVID era. Here is some background on the current youth sports landscape, along with some important questions to discuss with your patients and their parents.
Current California Youth Sports Landscape:
Currently, California Interscholastic Federation (CIF) competition is limited while some elite club and travel teams are finding ways to compete in less restrictive counties and states. Now that fall sports like football are finding their delayed seasons may still be cancelled, some high school football coaches are trying to create "club" leagues for their  athletes to "pay to play" football on the weekends outside of CIF's jurisdiction (and without its safety net of trainers, quality equipment, groomed fields/turf and COVID guidelines). Unfortunately, the travel, hotels, and off-field activities of privileged teams have brought COVID back to their neighborhoods. Unmasked gatherings of households have been consistently shown to increase COVID transmission, so team travel activities may present a risk. For the 800,000 youth athletes in California, participating in organized sports or leagues, exercise is a key to maintaining physical and mental health. Therefore, balancing sports activities with COVID precautions is essential to navigating the pandemic.
Public opinion is mixed along similar lines to the mixed emotions of school re-openings. People who value freedom to make their own choices feel they should be allowed to "let them play" (name of a burgeoning coalition) to improve youth physical and mental health. People who value safety do not want to put others and the hospital system at risk. Healthy coaches without guaranteed paycheck protection want to coach. Parents and youth athletes, who feel they are not vulnerable to COVID-19, want access to college scholarships and may travel to other states to compete. Lower socioeconomic groups in higher risk COVID-19 areas, who cannot afford clubs, now have their high school teams that follow CIF rules shut down, just as private schools are teaching in person frequently and public schools are not.
On December 15th, Governor Newsom announced the California Department of Public Health's guideline NR20-336 on Guidance for Youth and Recreational Adult Sports. Under this program, sports were slotted into each of the four colored tiers of the Blueprint for a Safer Economy by level of contact and location (indoor versus outdoor). Even with the lifting of the Regional Stay-at-Home executive order, almost all of California is in the Purple (most restrictive) tier. Counties in the purple tier allow outdoor individual teams that are deemed lower risk— such as track and golf—to be in season with regular practices and competitions with masking and physical distancing. Teams in the tier one level below the current tier may be able to conduct practices but cannot compete. For example, a sport classified to compete in the red tier can begin practicing in the purple tier. At any time, teams are only allowed to play against other teams from their county or adjacent counties in the same tier. As COVID cases become less common, and the county moves to a less severe tier, sports with more contact are allowed. For example, sports authorized to play in the red tier are outdoor teams with moderate contact like baseball and field hockey, while the orange tier allows full contact outdoor sports like football and soccer. Most indoor sports, like basketball and wrestling, fall into the yellow tier. The table below provides a detailed breakdown of which sports are allowed in each tier.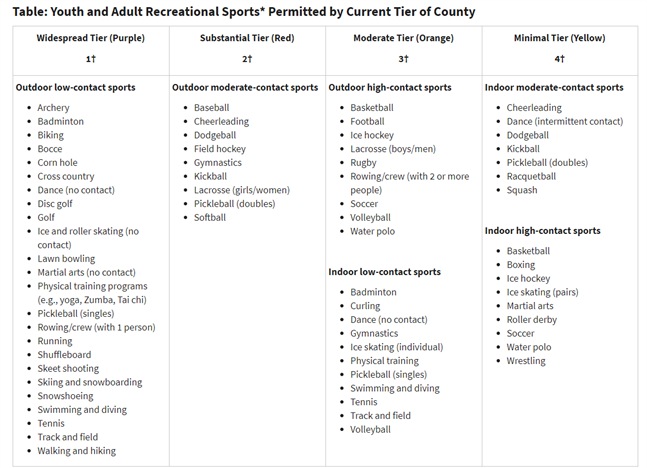 Tips for youth:
Follow the team rules and no hanging out on the sidelines or before/after practice with your friends unless you are six feet apart and both wearing masks.
Put your athletic bag and water bottle at least six feet away from your friends.
Remember water breaks without masks are the most dangerous time on the field.
Talk to your coach about any concerns.
Talk to your parents if your teammates and/or coaches are not following the rules.
Follow all the COVID rules when off the field with your teammates or others.
Talk to your parents if other kids are traveling to play games or joining other clubs.
Remember most COVID infections happen because of actions off the field, not on it.
Do not attend practice if you are not feeling great – you don't want to be the one bringing COVID to your team.
Tips for parents:
Talk to the coach and understand the philosophy and social norm during COVID.
Discuss the topic with your children and think of the risks to your household members.
Watch (from a distance) both your child's team and others on the field.
Watch how the water breaks occur, where athletic bags are, and any "hanging out."
Test early and often.  Pro/college teams are playing because they test and quarantine.
The good news is that coronavirus transmission has remained low on the field. Most COVID-19 outbreaks for teams have come from travel and off-the-field socializing without masks.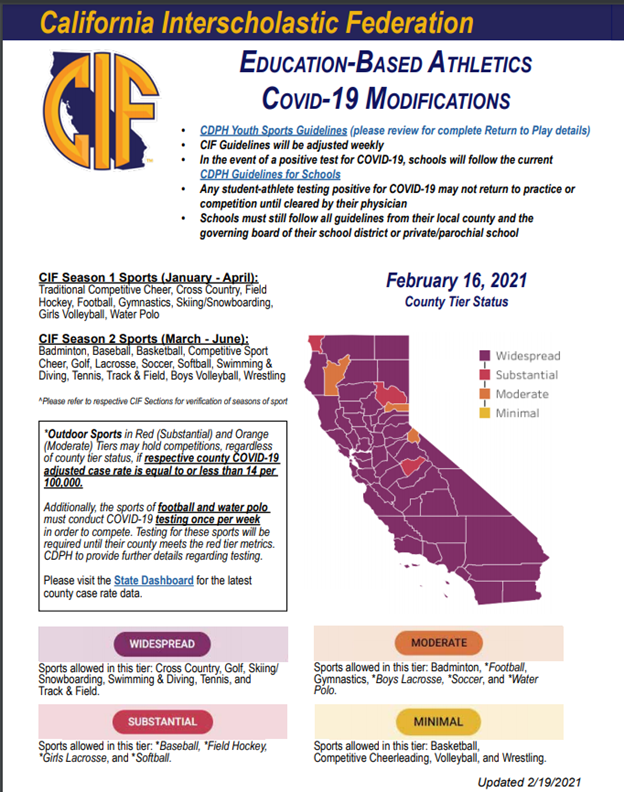 As family physicians, we need to be ready for these questions.
Look at your county's COVID website.
Read the California Department of Health's guidelines yourself.
Review the CIF guidelines in your section (many are cancelling playoffs and distance travel).
Talk to the coaches of the teams where most of your patients might participate.
Be aware that many expensive club teams have not been adhering to the state guidelines as they aim to keep their athletes sharp and in front of college coaches. This trend has exacerbated inequity in sports, as young athletes from lower income groups or those who are not "on the radar" for elite club teams are being left out.
As we all know, this COVID era demands balancing freedom and safety. Youth sports provide enormous physical and mental health benefits without huge transmission rates on the field, but the more households gather to participate, the more opportunity for COVID to be an uninvited party crasher.
For more information:
---
Addendum 2/19/2021:
Revision of Return to Play to permit all outdoor sports to play if COVID caseload in county is less than 14/100,000 with weekly testing required for high contact sports like football, rugby, and water polo:   https://www.cdph.ca.gov/Programs/CID/DCDC/Pages/COVID-19/outdoor-indoor-recreational-sports.aspx
Local jurisdictions have the ability to adopt stricter policies (i.e., San Francisco): https://www.mercurynews.com/2021/02/23/coronavirus-san-francisco-will-not-allow-football-other-high-contact-sports-as-allowed-by-california/