post by Conrad Amenta, Director of Policy and Strategic Initiatives
On Tuesday, March 17, CAFP held a webinar for members to share their experiences on the frontline of the COVID-19 pandemic. As I listened to our family physicians describe what they were encountering, I distinctly remember thinking to myself, "They're being sent into a gunfight without so much as a knife." It's a brutal analogy, but given that what family physicians are facing is not unlike a war, it felt somehow appropriate. I'm not sure if I'll ever be able to forget the sight of some of our most engaged, inspiring, family-medicine-fierce members on the verge of tears.
Family physicians are facing unprecedented challenges to both their personal safety and the financial sustainability of their practices. While the very makeup and identity of medicine are seemingly shifting before our eyes, there is no more tangible example of the threat to family physicians than the shortage of personal protective equipment (PPE) — N95-quality respirator masks, surgical masks, face shields, surgical gowns, gloves, and sanitizing gel, to name the most prominent examples.
Without PPE, frontline family physicians in their practices and urgent care clinics put themselves and their families at risk of infection for the sake of their patients. I left the webinar shaken. I shared the experience with my wife, Kate Catherall, who is a political organizer and can't stand still in a crisis to save her life.
Kate, whose personal and professional network is more prodigious than my own, immediately created a Google Form online calling for donations of PPE from individuals. We didn't have a holistic picture of need, but because of the relationships CAFP has with its members, we knew that we could make a reasonable guess that primary care physicians on the frontlines were in need. Kate tweeted out the form, and we went to sleep for the night. When we awoke the next morning, she'd been retweeted by several prominent organizers on the east and west coasts. Individuals with small inventories of PPE, many of them having purchased N95 masks during California's wildfire season, were signing up to donate. Others offered to sew masks day and night.
Working with my CAFP colleagues, we distributed an equivalent Google Form out to our membership of 11,000 family physicians. We asked for information about who was willing and able to accept small-batch donations from individuals. Within a couple of days, more than 125 family medicine physician practices, representing thousands of family physicians in California, had signed up to receive donations. By that point, more than 300 individuals had signed up to donate — some with several boxes of masks to give, others raiding their earthquake kits to send one or two. Kate and I began to match donors to recipients based on who needed what, and where donors were willing to ship. We tried to ensure that everyone who signed up would receive at least one shipment of PPE, even if it was a very small one.
Philanthropic interests were also in touch, some with large inventories (i.e. hundreds of thousands of units of PPE) or with connections in the world of supply chain management. These leads were absolutely crucial to pursuing a broader solution to the problem. We connected them to officials at the California Department of Public Health for follow-up.
As of this date, we've been able to match more than 14,000 masks, 11,500 gloves, and several thousand other individual units of PPE to family physician practices across California.
Kate's tweet was shared by influential people like former U.S. National Security Advisor Susan Rice, former Senior Advisor to President Barack Obama, Dan Pfeiffer, and the actor and writer Busy Phillips. I was asked to provide quotes for a New York Times story about how to donate N95 masks, and Kate appeared in a story by Kaiser Health News.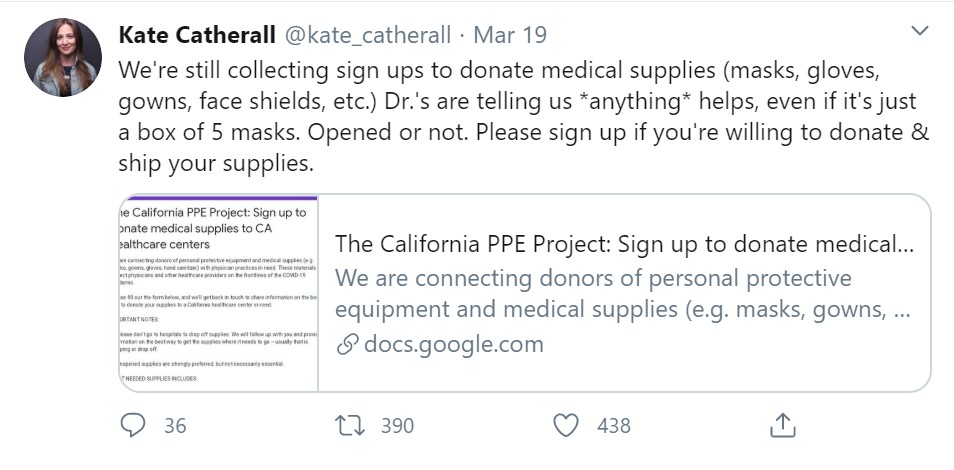 CAFP remains focused on large-scale solutions to the challenges our members are facing. California is leading the nation in bringing in substantial supplies of PPE, and CAFP will work hard to ensure they are distributed to family physician practices. We are also advocating for funds to shore up practices facing existential financial threats, aiding in the transition to telemedicine platforms, and properly funding the primary care healthcare workforce. But for that first couple of intense weeks in March, Kate showed me the power of grassroots organizing, and how a few motivated individuals (and a lot of social media) can make an incremental but tangible difference.
P.S. Our online donation form is still active, RIGHT HERE. If you would like to circulate the donation form to your community, we will match donors to family physician practices in need throughout California.