Forty-four Orange County physicians gathered in Zoom for CAFP's inaugural Family Medicine Initiative for Trauma-Informed Care (FIT) workshop.  The ninety-minute event featured a short presentation by FIT faculty, Anna Askari, Adia Scrubb, Brent Sugimoto, and Erika Roshnaravan, followed by small group discussions around the issues of ACEs screening and its potential impact on patient care and clinic flow.  This is the first of a two session event and worth up to 6 AAFP Prescribed credits.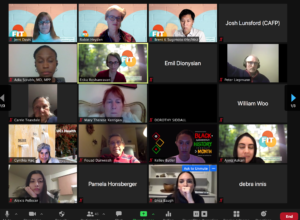 Workshop participants shared interesting and impactful ways of thinking about Adverse Childhood Experiences (ACEs) screening and Trauma Informed Care (TIC). One physician made the point that she now feels she has a better understanding of how some patients require so much energy and can be so emotionally draining. Another commented that this is a new way to look at patients with chronic conditions - through a new ACEs lens.  As everyone signed off, the chat was flying, "Such an eye-opening topic!"
Visit CAFP's Homeroom to register for a workshop in your district!