In December, CAFP will say goodbye to long-time staff member Shelly Rodrigues. Over the years, Shelly has served the CAFP in several roles, including as current Deputy Executive Vice President. Shelly has had an important place in the lives and hearts of many of our physician members and every staff person. We are grateful for Shelly's service and friendship over the years. Below you will find a tribute by Dr. Carol Havens that echoes the gratitude of all of us as we welcome a new relationship with Shelly.
by Carol S. Havens, MD, FAAFP
One of the best pieces of advice I ever got from a mentor (and which I pass on to others) was to get involved in my professional society. So, in 1996, I volunteered to be on CAFP's Committee on Continuing Medical Education (COCME); my career and life were definitely enriched. That was when I met Shelly Rodrigues. She was welcoming, engaging, thoughtful and wicked smart, and she made me feel like I had something to offer and could contribute, and challenged me to carefully consider how to improve education.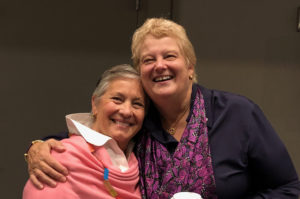 That is who Shelly is … she always looks for – and finds – some kernel of talent, or interest in people, then works to nurture, support, develop and promote that whenever she can. She is a coach, a cheerleader, a trusted advisor who provides redirection when needed, as well as kudos and support.
She is a force of nature. Though we in CAFP have been at the center of the tsunami that is Shelly, the effects have been felt nationally, and now internationally. She is always striving to push the envelope, to try new things, to figure out what works and what doesn't. She has never been satisfied with the status quo because we can always be better.
Everything she does is to improve things, to help us be better, to do better.  She has designed and delivered leadership development for CAFP, AAFP, ACEHP, AAMSE and a whole lot of other initials. She spearheaded both the CAFP's Family Medicine Women Leaders program and the CME Leaders, which has affected so many lives.  When COVID-19 cancelled the AAFP's Chief Residents course she was approached about doing one virtually for California, of course she said yes.
In fact, her constant striving for excellence shows as she is always trying to make education better, more effective and that includes making faculty more effective.  And on top of it all, she always makes it enjoyable!  If you have been to other CME activities, you know the ones at CAFP are different and that's because of Shelly.  She would be the first to demur and pass any compliments on to others, but we know the truth.  Shelly is the driving force behind our difference.
I write this tearfully. I will miss her terribly, as we all will. However, I think the greatest tribute we could give her is to continue her work, to continue to strive to improve. She found the kernel in many of us; we owe it to her to find it in others, to support our amazing colleagues on the staff and in our membership and to prove her faith in us was not misplaced.  Join me in wishing Shelly and Eddie only the best in the next phase of their lives. I love you, dear friend and thank you for nurturing that kernel in me.
To CAFP Members:  The Second Shoe
by Shelly Rodrigues, CAE, FACEHP, FAAMSE
Now is the time … The first shoe dropped in September 2018, when Susan Hogeland retired after 28 years as CAFP Executive Vice President.  With the support and confidence of the CAFP Officers and Board, Academy members and staff, Lisa Folberg has elegantly and successfully picked it up and taken it to new places.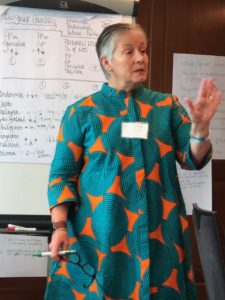 Now, it's time for the second shoe to drop, or hopefully to be placed carefully on the shelf.  After 28 years at the CAFP/CAFP-F, and with both trepidation and excitement, I am dropping my shoe … and announcing my retirement from the Academy I love.  It is time.
It has taken me a great deal of consideration and soul searching, conversations with family and friends, and a review of the promises I made to the leadership when Susan retired, to come to the conclusion that it is time for me to retire.  My last day will be December 31, 2020, with 28 years at the CAFP behind me and hopefully a different time with you ahead.
I joined the CAFP in 1992, as a young medical executive and leave now as a seasoned executive with immense experience gained.  I have learned so much from California family physicians, residents and students, our leaders and incredible staff, our partners, physicians and colleagues around the country and globally, and I am so very thankful for the education and opportunities.  I take with me what I have learned, but most importantly I take with me the friendships I have gained into my next adventure.  And, please rest assured, you have not heard the last of me.
I promise all the loose ends will be neatly tied up when I leave.  I will do everything I can to ensure a smooth transition for whomever comes to fill my shoes.  The next four months will be busy ones for us all, and I am confident that Lisa and the CAFP staff will chart a path forward that continues the work we have done together these past two-plus decades.  I am excited to see what the future holds for CAFP. I hope I can, where appropriate, be part of it.
Thank you from the bottom of my heart!  I am a better person for my time here, and like Susan, I know my shoes will be elegantly and successfully filled.  The CAFP and CAFP Foundation will continue to prosper as they represent the very best of family medicine.  It really has been an honor and a privilege to work for you and with you.