Post by Christopher Flores, MD, Co-Chair, CAFP Committee on Continuing Professional Development
Play Video: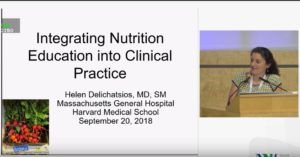 Presentation by Helen Delichatsios, MD, epidemiologist and clinician at Harvard, does a lot of research and education on nutrition.
I love this video because she gives practical pointers on how to improve and include nutrition counseling into quick clinical encounters.
The three takeaways from the video I put into action myself are:
Put obesity on the problem list:  work on lowering BMI just like we work on lowering blood pressure and cholesterol.
Simplify messages on nutrition:  I personally have a tendency to try to list all 14 bullet points of the Mediterranean diet with patients and they are not going to retain that information.  Dr. Delichatsios tells the patient to increase their fruits and vegetable servings per day -- that's it -- simple, actionable, and easy to remember. She even writes it on a prescription for patient.
Measure abdominal circumference:  We almost always check weights on patients and doing an abdominal circumference is not hard to do.  I have a tape measure in office, but I hand out cheap paper tape measures to patients to keep track at home (the paper ones I have only go to 24 inches so I tape two together end-to-end).
I liked the quote that she has in video "If you don't have time to be sick, you must take time to stay well."
Want to add to the CAFP Campus?  Have something to share in Show and Tell?  Contact us at cafp@familydocs.org!  Teachers and learners are always welcome.